Veterans Careers
American Heart Association supports military veteran hiring and provide special considerations for interviewing qualified military veteran applicants. As part of our commitment, we strive to help military veterans transition their skills from their time in the military to the civilian workforce.
In the search boxes above, not only can veterans search all of the different jobs that American Heart Association has to offer but they can also use the Military Search Box to see how their Military Occupation Code or Military Occupation Skill aligns with our many different occupations.
If you are an individual and/or a veteran with a disability and require a reasonable accommodation in applying for any posted position, please contact HR Shared Services at 888-242-7433 or email us at careers@heart.org.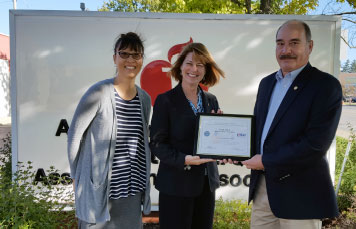 Cindy Smith, American Heart Association, honored by Department of Defense for patriotic support.
Columbus, Ohio – Cindy Smith, Senior Vice-President, Human Resources & Talent Development at the American Heart Association, Great Rivers Affiliate was presented with a Patriot Award September 27, 2016 by Randy Gasser, Ombudsman Director, Ohio Employer Support of the Guard and Reserve in recognition of extraordinary support of a spouse whose husband is in the Ohio National Guard.